Los Cahorras – The Hanging Bridges Footpath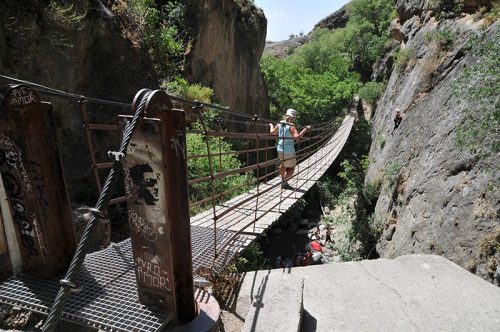 The impressive Los Cahorros gorge is situated 2 kilometres from the sleepy village centre of Monachil. Until very recently, the gorge was only really known and appreciated in rock climbing circles, the steep limestone cliffs offering numerous routes for climbers.
Word is beginning to spread with an increasing number of people finding their way to this natural paradise.
One route in particular, is exceptionally beautiful. And suitable for families. A walk alongside and through the Rio Monachil – the Monachil river.
Unbeatable views, waterfalls, plenty of rock pools for swimming, narrow caves and tunnels that you have to crawl through or hang off the rock face, walking alongside acequias (irrigation ditches) that date back to Moorish times and, of course, the famous hanging bridges.
The hike takes you through some spectacular Andalucian countryside. The walk is suitable all times of the year, but is particularly stunning in Spring and Autumn. The lush valley is home to numerous fruit trees (apple, cherry, pomegranate), wild flowers and herbs (lavender,thyme, rosemary), all interspaced with almond and olive trees.
If wanting to swim, i suggest going in the summer months. The Monachil river has its source in La Velata – one of Spain's highest mountains. The water is clean and cold. Very cold. A kind of cold that is only really welcomed on a hot summer's day.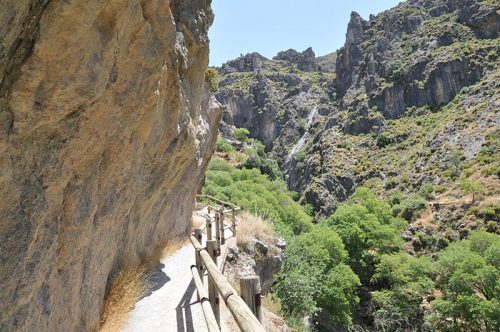 Information:
Distance from Nerja: 96 km
Distance to hike: From 1-9 km, turn around when you like
To bring with you:
Good Hiking Shoes
Swim Wear (in the summer months)
Waterbottle
Camera