Description of El Torcal
Thirty kilometres north of Malaga is the 12km² Torcal de Antequera Natural Area, with one of the most dramatic and exceptional karstic landscapes in Europe. This surreal and lunar grey limestone plateau, dating from the Jurassic period, is riven by deep gullies and characterised by its fantastically weathered natural sculptures.
The whole area was under the sea until 150 million years ago. The violent movements of the earth's crust then forced it upwards into hills and mountains, some 1,300m high. The limestone retained its horizontal strata, which over the years have been eroded by the rain and wind to form the incredible shapes you can see today.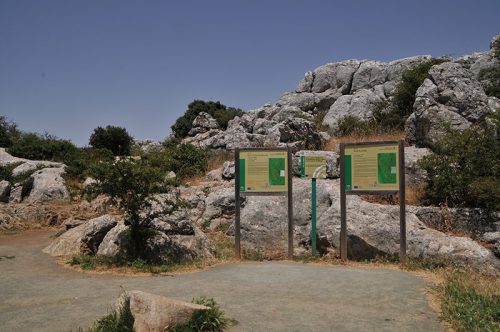 Geologically, the area can be divided into four sections: Sierra Pelada, Torcal Alto, Torcal Bajo and Tajos and Laderas. Torcal Alto is the most impressive, divided from Torcal Bajo by a magnificent rocky ridge, Las Vilaneras, which has the highest point in El Torcal at 1,336m, known as Camorro de las Siete Meses.
There are also caves, like the Cueva del Toro, where Neolithic remains have been discovered.
El Torcal has been declared a special protection area for birds (ZEPA), and the area supports a rich birdlife.
Walks
Three walks have been signposted in the area. Make sure you've got good walking shoes or trainers and in warmer weather take plenty of water.
Ruta Verde
(Green route) is the easiest and shortest, at 1½km, and takes about 40 minutes.
Ruta Amarilla
(Yellow route), at 2½km long, covers most of the green one and another kilometre, taking you to Las Ventanillas (Small Windows) at 1,200m with panoramic views of Malaga.
Ruta Roja
(Red route) is the longest, at 4½km long, and takes around three hours. It has a viewpoint at 1,339m, where you can see the whole of the Torcal area and, on clear days, the African coastline.
You are highly recommended not to leave sight of these walk and not go walking (without a guide) through the rocks yourself since many visitors have become completely disoriented and unable to find their way back.
Information:
Distance from Nerja: 111 km
Hiking Distance: From 1,4 km alt. 2,7 Km, short or long hiking trip
At the car park is an information centre, a small museum on the area's flora and fauna, a cafe and an astronomical observatory.
The Visitor center is the starting points of walks.
At the Visitor center you also find a resturang
To bring with you:
Bring Water with you
Comfortable shoes to Hike in
Binoculars – to see the wildlife in the park
Camera